Die weltweit einzige chemische, lernfähige Datenbank für dreidimensionale Molekülstrukturen mit integrierter künstlicher Intelligenz zur Verwendung in der Vorhersage beliebiger molekularer Eigenschaften sowie zum Einsatz als Laborjournal.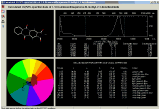 Extrem einfach und benutzerfreundliche Eingabe von dreidimensionalen Molekülen, unterstützt von einem schnellen Geometrie-Optimierer
Speichert jede Art von Daten zur Verwendung in Berechnungen künstlicher neuronaler Netze
Lernt aus den gespeicherten Daten zur Prognose von Eigenschaften noch unbekannter Moleküle
auf einen Klick für ungesättigte Verbindungen startet die Berechnung von UV/VIS-Spektrum und Farbe
schnelle Berechnung verschiedener, molekularer Deskriptoren wie logP, Volumen (in Angström3), Oberfläche (in Angström2), PSA und SASA
3D-Darstellung der Moleküle in hoch aufgelöster Form als Sticks, Sticks and Balls, transparent oder intransparente Van-der-Waals-Kalotten und weitere Grafiken sowie Abbildung des elektrostatischen Potentials auf der Van-der-Waals Oberfläche.
Automatische Klassifizierung von Molekülen
Kartierung von Molekülen auf Grund ihrer strukturellen Ähnlichkeit
Erlaubt unzweideutige Fragmentsuche
Ermöglicht Ähnlichkeitssuchen basierend auf verschiedenen molekularen Eigenschaften
Texteingabe-Option ermöglicht seine Verwendung als Laborjournal
Testen Sie die Software kostenlos. Die Software kann 20-mal gestartet werden. Anschliessend können Sie eine Lizenz für EUR 969.- erwerben. Mehrplatz-Lizenzen auf Anfrage.
Worldwide unique chemical database for three-dimensional molecular structures with integrated artificial intelligence capable of learning applicable in the prediction of any molecular properties as well as for use as laboratory notebook.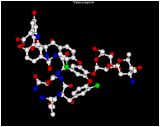 Extremely simple and user-friendly input of three-dimensional molecules, supported by a fast geometry-optimizer
Stores any kind of data for use in artificial neural networks calculations
Learns from stored data for property prediction of as yet unknown molecules
With one click for unsaturated compounds starts the calculation of the UV/VIS spectrum and colour
Fast calculation of various molecular descriptors such as logP, volume (in Angström3), surface (in Angström2), PSA and SASA
3D presentation of the molecules in high-resolution form as sticks, sticks-and-balls, transparent or opaque Van-der-Waals space-filling and further graphics as well as the representation of the electrostatic potential on the Van-der-Waals surface
Automatic classification of molecules
Mapping of molecules in relation to their structural similarity
Allows unambiguous fragment search
Enables similarity searches based on various molecular properties
Text-input option enables its use as electronic lab journal
Download the fully functional trial version. You have 20 runs for free. After trying you can purchase a license for EUR 969.-